Please welcome author Dawn Kurtagich with her debut novel The Dead House. This novel features a young girl, Carly, who died in a fire. Her diary is found many years later and mentions her twin sister, Kaitlyn. The only problem is that there is no record of Carly ever having a sister named Kaitlyn. Every day during The Dead House Mirror Tour, two different blogs (one in the US, one in the UK) will run a post on the same topic. One post will be Carly's point of view (which will run on the UK blog) and the other from Kaitlyn's (which runs on the US blog)! Today we have Kaitlyn's Top 5 Film Recommendations! Carly's Top 5 Film Recommendations are featured on the UK blog KitKat Can Read. The Dead House sounds absolutely sinister to me. I really want to pick up a copy today but in the US we have to wait until September 15, 2015! This novel is published by Little, Brown Books for Young Readers.
About Dawn:

Dawn Kurtagich is a writer of creepy, spooky and psychologically sinister YA fiction, where girls may descend into madness, boys may see monsters in men, and grown-ups may have something to hide. Her debut YA novel, The Dead House, is forthcoming from Hachette in 2015.
By the time she was eighteen, she had been to fifteen schools across two continents. The daughter of a British globe-trotter and single mother, she grew up all over the place, but her formative years were spent in Africa—on a mission, in the bush, in the city and in the desert.
She has been lucky enough to see an elephant stampede at close range, a giraffe tongue at very close range, and she once witnessed the stealing of her (and her friends') underwear by very large, angry baboons. (This will most definitely end up in a book . . . ) While she has quite a few tales to tell about the jumping African baboon spider, she tends to save these for Halloween!
She writes over at the YA Scream Queens, a young adult blog for all things horror and thriller, and she is a member of the YA League and Author Allsorts.
Her life reads like a YA novel.
You can visit Dawn around the web here: Website | Blog | Twitter | Facebook
Tumblr | Instagram | Pinterest | YouTube
Want to read more from Dawn Kurtagich?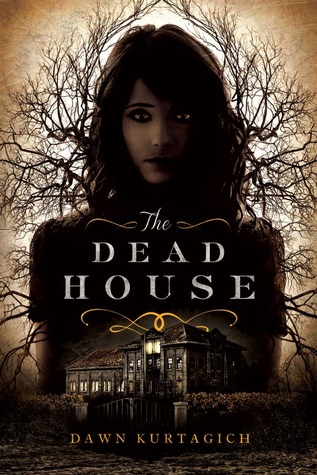 ______________________________________________________________________
Top 5 Movie Recommendations:
KAITLYN
SPOILER ALERTS!
Movie 1: Village of the Damned
The Village of the Damned tells the story of a town whose women are simultaneously impregnated after the entire town blacks out. When the babies are born, they look completely normal. But soon things turn sinister.
Why I love it:
The way the children can read each other's minds, the way they are in sync, the connection they have, their powers and the sheer beauty of them. They share something close to what Carly and I share, only more powerful because they can communicate mentally, where we have to use notes and messages. I suppose I love it because it's what I want.
Best Moment:
Oh, all of them. But here are a few: The first shot of the children walking in unison, the shot just after one of the girls has red drops put in her eye and the others turn their heads in unison, and, of course, the final showdown.
Movie 2: A Tale of Two Sisters
The original film behind its American re-make (The Uninvited) and based on the folktale "Janghwa Hongryeon jeon", A Tale of Two Sisters tells the story of sisters Su-mi and Su-yeon. Su-mi is recently home from a mental hospital where she was receiving electro-shock therapy, finally reunited with her sister, Su-yeon. Su-mi is dismayed to find that her father has a new bride—the nurse who cared for their ailing mother until her death. This new stepmother has nothing but sinister intentions. A movie with a brilliant twist ending!
Why I love it:
The relationship between Su-yeon and Su-mi is just too sweet and real to be ignored. And the ending is priceless.
My favorite moment:
The finale. Just a tear-your-heart-out scene. Wonderful.
Movie 3: Shutter (2004)
Shutter tells the story of Tun and his girlfriend Jane. Tun is a photographer who begins to discover distortions that look like a white face in all of his photos. His girlfriend Jane thinks that the image may be a ghost—the ghost of a girl they hit on the road driving home one night. Soon the images escalate into hauntings and eventual suicides of Tun's friends. Very creepy—a slow builder!
Why I love it:
Because it's a revenge tale with a twist. The twist being that it's not about revenge at all. It's about obsession.
My favorite moment:
The ending, again. The whole film is worth it for the ending. The "hanging on" scene.
Movie 4: The Good Son
12-year-old Mark Evans, having recently lost his mother, travels to stay with his aunt and cousin Henry. Mark and Henry get along at first, but soon Henry reveals a darker side
Why I love it:
I love the concept of a psychotic/sociopathic child who is manipulative to the point of skill. Henry is very smart, and I get tense every time I watch it. Plus, that ending? Priceless.
My favorite moment:
Henry holds onto Daniel from the tree house. His question: "If I let you go, do you think you could fly?" is very sinister, and foreshadows how bad things are going to get.
Movie 5: Galaxy Quest
This film is just brilliant. It follows a band of washed-up actors of an old Star Trek-like TV series, who encounter a real alien species under attack, and must travel to space to fight against the invading alien force using an exact version of the ship they spent years pretending to command.
Why I love it:
It's hilarious, seamless and timeless. It plays into every single Geek joke that exists.
Best Moment:
"By Grabthar's hammer . . . you shall be . . . avenged!" Alan Rickman at his finest.
______________________________________________________________________
**Go to KitKat Can Read for Carly's Top 5 Movie Recommendations!!!**
______________________________________________________________________
Available September 15, 2015 by Little, Brown Books for Young Readers
About this Book:
Carly rules the day. Kaitlyn rules the night.
A chilling psychological horror from an exciting new voice in YA literature!
Over two decades have passed since the fire at Elmbridge High School. Five teenagers' lives were claimed, and one, Carly Johnson, vanished without a trace…
…until a diary is found hidden in the ruins.
But the diary, badly scorched, does not belong to Carly Johnson. It belongs to Carly's supposed alter ego, Kaitlyn Johnson, a girl who shouldn't exist. And Kaitlyn's is a dark and twisted mind.
Based on the discovery of the diary, the case is reopened. Police records are reexamined: psychiatric reports, video footage, text messages, e-mails.
And the diary, which paints a much more sinister version of events than was ever publicly known, tells a side of the story that is both fascinating and disturbing.
As the records are revealed, the horrifying truth of the Dead House unfolds. A truth that will keep you guessing even after the final pages…
Order from