I am so excited to have the lovely Elissa Sussman and her character Aislynn on the blog today! Elissa is the author of Stray, which is a wonderful dark fairy tale that I completely adored (read my review here). Stray is the first book in the Four Sisters Series! The sequel Burn will be coming out in January 2016 and suffice to say I can't wait to read it! To get everyone excited about Burn we have a fun interview with the main character from the series visiting the blog today for a wonderful interview.
We also have a great giveaway at the bottom of the post where one winner will get an annotated copy of Stray! A huge thank you to Elissa for the giveaway!
About Elissa:
Elissa Sussman is a writer, a reader and a pumpkin pie eater.
Her debut novel, STRAY (Greenwillow Books/HarperCollins), is a YA fantasy about fairy godmothers, magic and food. She received her BA from Sarah Lawrence College and in a previous life managed animators and organized spreadsheets at some of the best animation studios in the world, including Nickelodeon, Disney, Dreamworks and Sony Imageworks. You can see her name in the credits of THE CROODS, HOTEL TRANSYLVANIA, THE PRINCESS AND THE FROG and TANGLED.
She currently lives in Los Angeles with her boyfriend and their rescue mutt, Basil.
You can visit Elissa around the web here: Website | Twitter | Facebook | Tumblr
Want to read more from Elissa?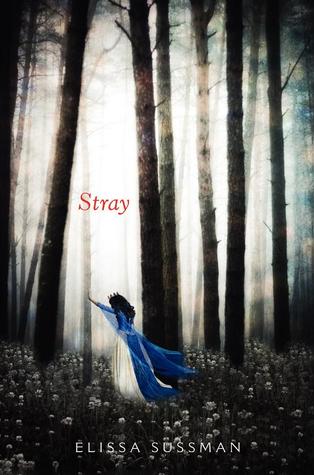 _________________________________________________________________________________
Please join me in welcoming Aislynn to the blog today!
Dark Faerie Tales: For those of us who have yet had the pleasure to meet you will you please introduce yourself and tell us a little bit about your story?
Aislynn: My name is Aislynn, princess of Nepeta. Er, make that former princess. Now I am the fairy godmother to the High Princess Linnea and doing my best to follow the Path I have been given. I have made a vow to control my magical occurrences and remain loyal to Linnea and the advisers.
DFT: Obviously your 16th birthday didn't go quite the way you planned it to. Instead of dancing the night away with charming suitors you ended up being shipped off to become a fairy godmother.  Out of everything that happened that night what was the biggest surprise to you?
Aislynn: I was shocked that my friend Maris decided to become a stray instead of following the Path and becoming a fairy godmother.
DFT: Unlike most girls in your society you like to eat and you didn't always act the most proper at times. In some ways being different caused your peers to treat you badly, did this ever bother you?
Aislynn: I didn't have many friends at my last Academy, mostly because they all knew that I had trouble controlling my powers. It could get quite lonely, but I always had my fairy godmother, Tahlia, who I love dearly.
DFT: You always thought that you would eventually get married but that obviously doesn't end up happening. What was the one thing you dreaded most about becoming a fairy godmother?
Aislynn: Though I've vowed not to let my step falter along my new Path, it has been difficult to accept that I will never see my parents or my former fairy godmother again. I have been told to forget them, but it has been quite hard to do just that.
DFT: Princess Linnea is a very interesting girl and your friendship with her grew over time.  What did you like best about her and what did you like least?
Aislynn: Princess Linnea is very good and generous. She will make a wonderful queen and it is an honor to serve her. If I were to speak unkindly about her, it would only be in regards to her adviser, Adviser Lennard, who has forced her to act in ways that bring her pain.
DFT: Thackery was one of my favorite characters in your story and you eventually grew pretty fond of him yourself
! Out of all his great qualities what do you think is his best trait?
Aislynn: He is very stubborn, which is both wonderful and frustrating. He's yet to give up on me.
DFT: Throughout your story your eyes are opened to a lot of new ideas that you never thought possible in your society, but there is still much to learn. What is one of the most important things you have learned on your journey so far?
Aislynn: I have learned that it is not enough to simply believe –there are things that should be questioned, even if doing so is scary and might lead you into the unknown.
DFT: I am so excited to see what happens in your story next! Can you tell us what we can expect to see in Burn?
Aislynn: My new friend, Elanor, will be leading the story in BURN, though I will be spending much time learning from her. We will be sharing a new part of the kingdom and the lives of those who have gone unnoticed by many outside of the Midlands.
Quick Fire Questions: (What is the first thing that comes to your mind when you read the following?)
Magic? Dangerous
Thackery? Forest green
Your Parents? I fear I've disappointed them
Fairy Godmother? Devotion
Happily Ever After? An ending I still hope for
_________________________________________________________________________________
This contest if provided by Elissa Sussman!
One lucky winner win get an annotated copy of Stray!
(US only)
 Available October 7th 2014 by Greenwillow
About this Book:
I am grateful for my father, who keeps me good and sweet. I am grateful for my mother, who keeps her own heart guarded and safe. I am grateful for my adviser, who keeps me protected. I am grateful for the Path, which keeps me pure. Ever after.
Princess Aislynn has long dreamed about attending her Introduction Ball, about dancing with the handsome suitors her adviser has chosen for her, about meeting her true love and starting her happily ever after.
When the night of the ball finally arrives and Nerine Academy is awash with roses and royalty, Aislynn wants nothing more than to dance the night away, dutifully following the Path that has been laid out for her. She does not intend to stray.
But try as she might, Aislynn has never quite managed to control the magic that burns within her-magic brought on by wicked, terrible desires that threaten the Path she has vowed to take.
After all, it is wrong to want what you do not need. Isn't it?
Click HERE to read an excerpt
 Order from
GIVEAWAY GUIDELINES:
a Rafflecopter giveaway
You can follow any responses to this entry through the RSS 2.0 feed. Both comments and pings are currently closed.