Dystopian Reading Challenge 2012
Are you living in terror and fear for your survival?  Welcome to the dark and depraved world of DYSTOPIA.
Are you confused about Dystopia? Do you want to know – what exactly is a Dystopian society?  Click here to read all about it.
Participants should choose any 24 dystopian novels. I've already started a list below and will make updates every few weeks. I hope you guys will participate! There will be book giveaways throughout the event, so check the homepage to sign up. Here are the general rules:
Timeline: January 1, 2012 until December 31, 2012
Goal: GET LIBERATED — to read at least 24 dystopian novels in 2012
Reading Levels:
1. Propaganda – Choose 6 books to read
2. Contagion – Choose 12 books to read
3. Oppressed – Choose 18 books to read
4. Liberated – Choose 24 books to read
5. Totalitarian – Choose 30+ books to read
General Rules:
The reading challenge is open to everyone.
You don't need a blog to participate.
If you don't have a blog – you can leave a comment with your book selection in this post.
If you don't have a blog and would like to write a review – you are welcome to do a guest review on this blog.
You can join at anytime to participate in this challenge.
If you are going to participate in this challenge, please post about it on your blog and add a link back to this post.
You can grab the challenge button on the sidebar to use on your blog.
eBooks, audio, and already read all count.
The  Selection List will be continuously updated
Please sign-up using Mr. Linky – be sure to use the direct link to your post so that people will be able to find this challenge.
2012 Selection List:
2. Pandemonium by Lauren Oliver
3. Breathe by Sarah Crossan
4. Skylark by Meagan Spooner
5. Struck by Jennifer Bosworth
7. Outpost by Ann Aguirre
10. Brave new World by Aldous Huxley
11. Fahrenheit 451by Ray Bradbury
13. Monument 14 by Emmy Laybourne
14. For Darkness Shows the Stars by Diana Peterfreund
15. The Eleventh Plague by Jeff Hirsch
16. Under the Never Sky by Veronica Rossi
17. Divergent by Veronica Roth
18. Insurgent by Veronica Roth
21. Cybernetic by Laura Riken
23. Article 5 by Kristen Simmons
25. The Hunger Games by Suzanne Collins
26. Catching Fire by Suzanne Collins
27. Mocking Jay by Suzanne Collins
28. Wither by Lauren DeStefano
30. The Way We Fall by Megan Crewe
31. Beauty Queens by Libba Bray
33. Twitch by Jack Blaine
34. Animal Farm by George Orwell
35. The Handmaid's Tale by Margaret Atwood
41.  The Maze Runner by James Dashner
42. The Scorch Trials by James Dashner
43. The Death Cure by James Dashner
44. The Road by Cormac McCarthy
45. Ender's Game by Orson Scott Card
47. I am Legend by Richard Matheson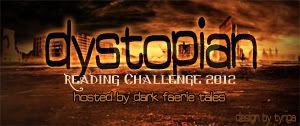 Dystopian Reading Challenge 2012 (Sign-up Post)

,
You can follow any responses to this entry through the RSS 2.0 feed. Both comments and pings are currently closed.