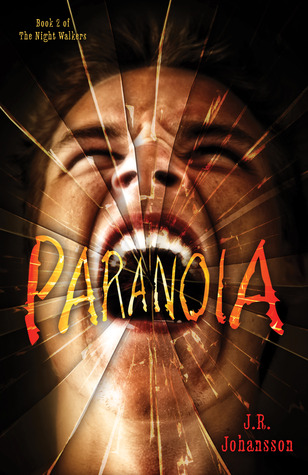 Title: Paranoia
Author: J.R. Johansson
Genre: YA Thriller
Series: Night Walkers (Book #2)
Publication Date: June 8, 2014
Format: Paperback, 336 Pages
IBSN-10: 0738740187 (Flux)
ISBN-13: 978-0738740188 (Flux)
Reviewed by: Bridget
Synopsis:
In the aftermath of the events that nearly killed him, Parker Chipp is trying to learn to cope better with life as a Watcher. And it seems to be working…until he wakes up in jail with a hangover and 12 hours of missing time. Darkness has somehow taken control and Parker doesn't have a clue how to stop him. He finds an unlikely ally in Jack, the mysterious guy in the motorcycle jacket who offers to help Parker master his abilities as a Watcher. But even as they practice, the darkness inside Parker is getting more and more powerful, taking over Parker's body and doing everything he can to destroy Parker's life.
When Jack reveals that there is another kind of Night Walker, known as a Taker, Parker starts to wonder if the strange things happening in Oakville are more than just a coincidence. After all, people are more than just sleepwalking. They're emptying their savings accounts with no memory of doing so, wandering into strange parts of town and disappearing, they're even killing other people–all in their sleep. If Parker wants to find out what's happening or have any hope of seeing his father again, he'll have to defy Jack and put his own life in danger…because the more he learns about these other Night Walkers, the more certain he becomes that his life isn't the only one that could be lost.
Quick & Dirty: Fantastic story that was almost impossible to put down. Jam packed with action, romance, and suspense this is sure to please all YA thriller fans!
Opening Sentence: Weird stuff was going down in Oakville, and this time I was definitely—well, fairly—sure that I had nothing to do with it.
Excerpt: No
The Review:
For the last few years of his life, Parker hasn't been able to sleep. Every time he tries to sleep he ends up going into the dreams of the last person he had eye contact with.  The lack of sleep was slowly killing him and then he met Mia. Her dreams were so relaxing that he was finally able to sleep in them. Parker always thought that he was just different, but it turns out that there are others just like him. Parker is a Night Walker or more specifically a Watcher. A Watcher is someone that can enter into other people dreams. They can subtly influence the dreamer if they choose to or they can just watch and learn.
Parker soon learns that there are other types of Night Walkers, Takers and Builders. Takers have the power to possess any one they choose, but they can only do it for one night at a time. They don't have the ability to sleep so they soon wear out their bodies and live very short lives. Builders on the other hand have the power to heal Watchers. They can restore the energy the Watcher use while in others dreams. The Takers are at war with the Watchers and Builders and Parker has found himself right in the middle of it. Parker finds an unlikely ally in Jack, the mysterious guy that supposedly was sent by his dad to help him master his Watcher abilities. He will have to learn to control his darker side if he has any hope of keeping his friends and family safe.
Parker is a very interesting character. He is such a great guy and always tries to do the right thing, but he also has a darker side to him. A side that will sometimes take control of his body when he is asleep, which always lands him in a bad situation. When he wakes up in jail after having no memories of the last 12 hours, he knows that he has to learn to control it. It was interesting to see his inner struggles with what was truly right and wrong. It made him feel like a more realistic character because I think that in general most people struggle with this every day in one form or another. I thought that Parker grew immensely as a character and I felt my connection with him strengthen. I think he was the perfect hero and I am hoping that we will get more of his story.
All of your favorite secondary characters make an appearance in the book as well. You have Finn, the best friend who brings lots of humor into the story with his witty remarks and funny t-shirts. Then there is Mia, the girl that keeps Parker alive with her calming dreams. She's not in this story nearly as much as she was in the first book but I loved still seeing glimpses of her. Next is Addie, she is Finn's little sister and the love interest. I loved getting to know Addie better and watching her relationship with Parker develop was cute. The last character I wanted to mention was Jack. He was just briefly introduced at the end of the last book, but he actually played a much bigger role in this one. You get to learn who he really is and the connection he has with Parker. I actually really like Jack, at first he comes across as kind of a jerk but the more I got to know him, the more I liked him. That's all I'm going to say about him because I don't want to spoil anything!
Paranoia gets huge props for being so original. While it has all the elements that a young adult thriller should have, it also has a very unique idea. I love that the characters can enter into other's dreams, but I also like that there are consequences for any actions they take while in those dreams. The characters are so much fun in this series and each one of them was a great addition to the story. I love Johansson's writing style, it is just so easy to get lost in her stories. She draws you in with the suspenseful plot and keeps you hooked with all the different twists and turns she adds. I really enjoyed Insomnia, it was a great start the series but Paranoia was an even better read. I loved learning more about the different types of Night Walker's. I'm not sure if this is the end of the series because the ending was very satisfying, but Johansson could easily expound on the story. Either way, I would be happy, but honestly more from this world would be preferred! Overall, this was an excellent book and I would highly recommend this to any YA thriller fans, it will not disappoint.
Notable Scene:
I sat straight up and my vision burst into violent white, like a light bulb exploded behind my eyeballs. Then everything went dark, all but a pinpoint of glaring brightness in the center. Leaning back, I found what felt like a brick wall, and rested against it, panting—and panicking.
All around me was confusing noise: a loud printer, a phone rang in the distance, metal on metal, footsteps. And then so close I felt I could reach out and touch them, many people breathing: heavy breathing, light breathing, a cough here, a sniff over there. Someone laughed an emotionless, empty chuckle, but it echoed around me, through me, and I couldn't decide which direction it had come from. This time I took it slower, parting my eyelids just enough to peek through and see a small slice of the room.
Everything around me was dingy white, with grey benches along all the walls. Other people sat or stood nearby—all men—and a few stared at me. I widened my eyelids a bit more and noticed the one detail that defined everything else. To my left, the white bricks I leaned against ended at a wall of grey bars.
What the hell is going on?
Night Walker Series:
1. Insomnia
2. Paranoia
FTC Advisory: Flux provided me with a copy of Paranoia.  No goody bags, sponsorships, "material connections," or bribes were exchanged for my review.
You can follow any responses to this entry through the RSS 2.0 feed. Both comments and pings are currently closed.