2 supernatural blogs + 31 spine-tingling days + 62 frighteningly talented authors & characters, creepy cool urban legends, and the most chilling new releases of the season =
Spooky Legends (October 1st – October 31st)
Presented by All Things Urban Fantasy & Dark Faerie Tales
Are you ready for another supernatural, spine-chilling, and sexy event?  Are you ready for twice the talent, twice the scares, & twice the giveaways?  This year's Spooky Legends is bigger and better than ever and will take place during the entire month of October!
Once again, Dark Faerie Tales and All Things Urban Fantasy are teaming up for this wickedly wonderful event that will feature some of the biggest names in paranormal fiction writing Brand New accounts of the most infamous urban legends from the perspective of the characters we love.  Beginning on October 1st and running every day through Halloween, Angela and I will each be featuring different authors, legends, characters, and BIG giveaways for all these author's new releases coming out this fall:
This year's Spooky Legends authors include:
Jennifer L. Armentrout 
Sabrina Benulis
Katie MacAlister 
K.D. McEntire
The books we'll be featuring and giving away:
Please help us spread the word:
Tweet: I can't wait for #SpookyLegends 2 supernatural blogs + 31 spine-tingling days + 62 authors & #giveaways Oct 1st-31st  http://bit.ly/pwjPEV
Grab the button: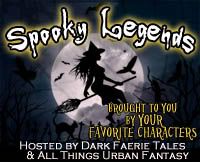 Event Alert: Spooky Legends 2011

,
You can follow any responses to this entry through the RSS 2.0 feed. Both comments and pings are currently closed.