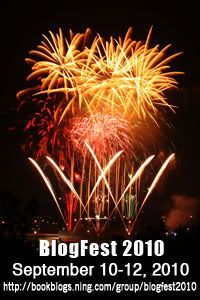 BlogFest is hosted by A Journey of Books.  Want a chance to win hundreds of prizes? Every blog you visit will have more links for you to follow, all of them with a special giveaway and just waiting for you to drop by.
Don't forget about the massive BlogFest 2010 grand giveaway!  Head on over to A Journey of Books and click on the Tracking Site link to head to their own exclusive tracking site.  Once there you can register with a valid email address (to be used solely for the purpose of contacting the winner).  This site will allow you to track your progress through BlogFest 2010! You can log on from anywhere at any time and continue where you left off. The best part is that every blog that you visit and mark off through this tracking site will give you one entry into the massive giveaway!  They have a great collection of books, goodies and other swag that is looking for a new home!
Remember – BlogFest prizes are only available from midnight on the morning of the 10th and finish at midnight on the night of the 12th.  The number of prizes you could win is only limited by the NUMBER of blogs you visit.
GIVEAWAY GUIDELINES:
To enter, leave a comment below:

1. +2 entries for becoming a follower of this blog and Dark Faerie Tales on Twitter.
2. Giveaway is open to everyone.
3. Please include your email address in your comment.
4. Giveaway ends Sunday, September 12th at 12:00 AM EST.
5. The winner will be picked with the help of Random.org.
Dark Faerie Tales will have two large boxes of awesome prizes for 1 lucky winner for this special event.  I will include 95 books of my choice as well as these:
Also, you can stop by the next blog that's participating in BlogFest here.
Giveaway: BlogFest 2010 Mega Event

,
You can follow any responses to this entry through the RSS 2.0 feed. Both comments and pings are currently closed.