Steampunk Reading Challenge 2012
Welcome to the world of STEAMPUNK, a fascinating subgenre of the fantasy world. Meet strong Victorian men and women and explore fantastic airships, crafts and other incredible inventions.
Are you confused about Steampunk? Do you want to know – what exactly is Steampunk?  Click here to read all about it.
There are many attributes of this science fiction sub-genre that I adore, such as steam or clockwork powered tech, the magic of electricity, gears and gadgets that can do fantastical things, and (let's not forget) dirigibles.  The Steampunk genre generally contains stories written in an alternate history/Victorian era where steam powered gadgets and machines rule the day.  You have Zephyrs and blimps, fashionable Victorian clothing for the lovely ladies and handsome gentlemen, and clever clockwork designs.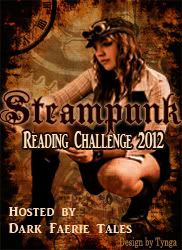 You can take a look at the following sites to become immersed in the world of Steampunk:
3. Datamancer
4. Insect Lab
8. Steampod
Timeline: January 1, 2012 until December 31, 2012
Goal: GET GREASED — to read at least 24 steampunk novels in 2012
Reading Levels:
1. Gaslight – Choose 6 books to read
2. Gears – Choose 12 books to read
3. Gadgets – Choose 18 books to read
4. Greased – Choose 24 books to read
5. Steamed – Choose 30+ books to read
General Rules:
The reading challenge is open to everyone.
You don't need a blog to participate.
If you don't have a blog – you can leave a comment with your book selection in this post.
If you don't have a blog and would like to write a review – you are welcome to do a guest review on this blog.
You can join at anytime to participate in this challenge.
If you are going to participate in this challenge, please post about it on your blog and add a link back to this post.
You can grab the challenge button on the sidebar to use on your blog.
eBooks, audio, and already read all count.
The  Selection List will be continuously updated
Please sign-up using Mr. Linky – be sure to use the direct link to your post so that people will be able to find this challenge.
2012 Selection List:
2. Changeless by Gail Carriger
6. Doomsday Vault by Steven Harper
7. The Mammoth Book of Steampunk Anthology – Sean Wallace (Editor)
10. The Iron Duke by Meljean Brook
11. Heart of Steel by Meljean Brook
13. Innocent Darkness by Suzanne Lazear
14. Wicked as They Come by Delilah Dawson
15. The Iron Wyrm Affair by Lilith Saintcrow
16. The Map of Time by Felix J. Palma
17. Corsets & Clockwork: 13 Steampunk Romances Anthology
18. Steampunk!: An Anthology of Fantastically Rich and Strange Stories
19. All Men of Genius by Lev AC Rosen
20. Ironskin by Tina Connolly
21. Clockwork Angel by Cassandra Clare
22. Clockwork Prince by Cassandra Clare
23. The Girl in the Steel Corset by Kady Cross
24. The Girl in the Clockwork Collar
25. The Greyfrair by Clay & Susan Griffith
26. The Rift Walker by Clay & Susan Griffith
27. Phoenix Rising by Philippa Ballantine
28. Boneshaker by Cherie Priest
29. Clementine by Cherie Priest
30. Dreadnought by Cherie Priest
33. Heart's Blood by Gail Dayton
34. Heart's Magic by Gail Dayton
35. The Falling Machine by Andrew P. Mayer
36. Hearts of Smoke & Steam by Andrew P. Mayer
37. The Strange Affair of Spring Heeled Jack  by Mark Hodder
38. The Curious Case of the Clockwork Man by Mark Hodder
39. Expedition to the Mountains of the Moon by Mark Hodder
40. The Buntline Special by Mike Resnick
41. The Doctor and the Kid by Mike Resnick
42. Ghosts by Gaslight: Stories of Steampunk and Supernatural Suspense
43. Steampunk II: Steampunk Reloaded Anthology
44. Leviathan by Scott Westerfeld
45. Behemoth by Scott Westerfeld
46. Goliath by Scott Westerfeld
Steampunk Reading Challenge 2012 (Sign-up Post)

,
You can follow any responses to this entry through the RSS 2.0 feed. Both comments and pings are currently closed.