First we would like to introduce ourselves. We (Bridget, Emmy, Kayla and Michelle) are so excited to be advocates for the wonderful Prince Maxon from The Selection Series by Kiera Cass. We are all reviewers of YA Fiction for the awesome blog Dark Faerie Tales. This blog is dedicated to reviewing YA/NA fiction books (primarily paranormal) and spreading the news of upcoming books coming out or making it in the movie world.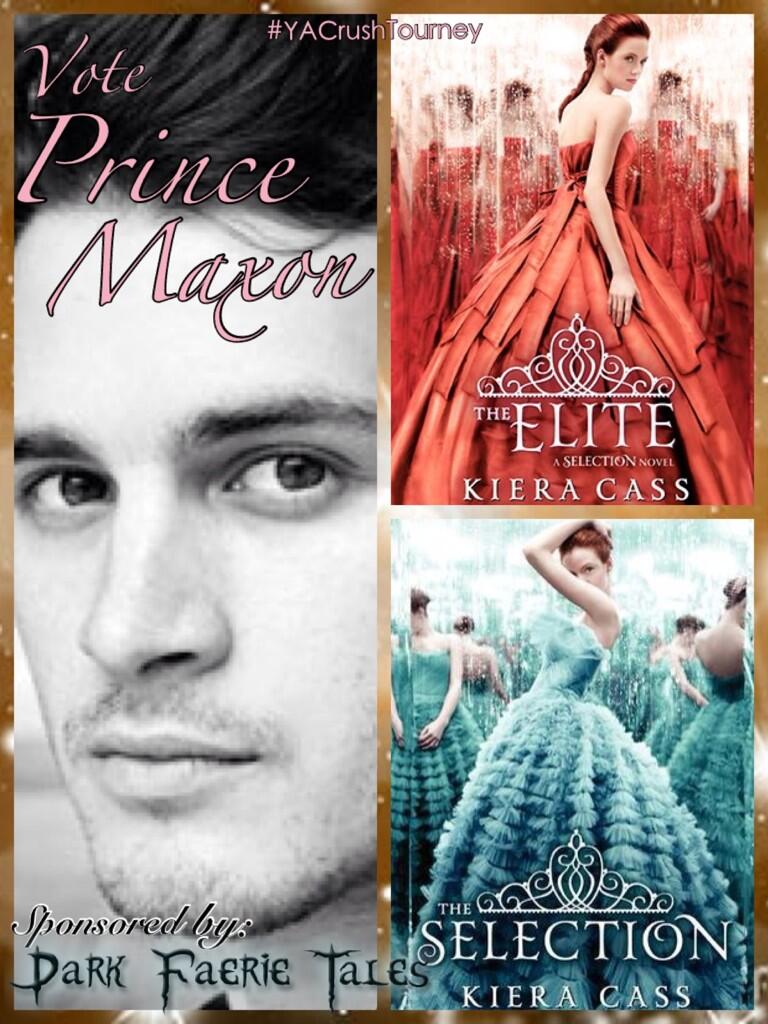 It is custom that whenever the heir to the throne in Illea is a boy, a Selection is held. In this Bachelor-esque competition, 35 girls are chosen to fight for the prince's heart – and the crown.  Prince of Illea, Maxon Schreave, must look for a wife out of the 35 advisor-chosen girls from all kinds of backgrounds. Despite his reluctance and doubt that he would actually find "true love" in this political game, Prince Maxon is pleasantly surprised when an unusual girl steals his heart. Trust us when we say he is definitely a bachelor worth winning.
Personality:
Let's start off with the easy stuff: Prince Maxon is smart, kind, funny and all the "golden guy" characteristics that every girl swoons for. Now, as cliche as all of that sounds, this is the foundation of Maxon's personality. But what makes him stand out from every other good guy out there is his deep loyalty, affable/witty banter and compassion. We can always depend on Maxon to lighten the mood with light hearted jokes or sarcastic comment, but the most memorable conversation was Maxon's bet with America Singer (the reluctant true love). *TINY SPOILER AHEAD* During breakfast with all of the Selected, Maxon bets that the food is so delicious at the castle that America's sister would shed tears of joy if she tasted it; if he wins then America would have to go on a walk with Maxon, but if he lost, America can wear jeans on the weekends. Even with his funny personality, Maxon is also the most compassionate person in the entire series – and possibly in anything we've ever read. He cares when nobody else does and forgives when the king refuses to. Still not convinced to vote for him? Keep on reading.
~~~
"Forgive what? Our stupid fight? It's already forgotten.  Your feelings being a little slower than mine? I'm prepared to wait," he said with a shrug.  "I don't think there's anything you could do that I couldn't forgive.  Need I remind you of the knee to my groin?"  The Selection pg 321
"It wasn't like I made his world better.  It was like I was his world. It wasn't some explosion; it wasn't fireworks. It was a fire, burning slowly from the inside out."  The Elite pg 298
Looks:
He's swoony. 'Nuff said. Well since there's no exact picture of him, you'll just have to be satisfied with Michael Malarkey. (This picture
is the closest we can get since he's playing Maxon in the CW's version of The Selection currently in the middle of filming.)
~~~
"His hair was honey colored, and his eyes were brown.  He kind of looked like summertime, which I guess was attractive to some people.  His hair was cropped short and neatly done, and his grey suit was perfectly fitted to him."  The Selection pg 40
"I had been raised a musician, but I was surrounded by artists.  I'd once seen a sculpture that was hundreds of years old of an athlete throwing a disk.  I'd thought to myself at the time that only an artist could do that, make someone's body look so beautiful.  Maxon's chest was as sculpted as any piece of art I'd ever seen."  The Elite pg 284
Talents:
As a prince, one must be a competent diplomat. Maxon has that down pact. He displays wonderful skills in negotiating and leading. Also, if listening could be called a talent, Maxon has it down to a T. There isn't a single thing America can't talk to Maxon about (besides their relationship) and even if he doesn't have any advice, he's always willing to lend an ear.
~~~
"Maxon's face was a shallow echo of my own pain. He looked absolutely brokenhearted for me.  More than that he looked angry. 'I'm sorry America. I don't…' His face shifted a little 'Is this a good time to pat your shoulder?'" The Selection pg 196
Attributes:
If you're still not confident you should vote for Prince Maxon, let's summarize his best characteristics: compassionate, funny, loyal, smart, diplomatic, handsome… But for one second, let's drop all pretenses and forget that this is a competition and we're only supposed to point out all of our boy's good qualities. But it's really Maxon's flaws and negative characteristics that make him stand out above any other.
He can be selfish.
"Honestly? I was trying to give the other girls a sporting chance.  From the beginning, I've really only looked at you, wanted you." I blushed.  "When you told me how you felt, I was so relieved that a part of me didn't believe it.  I still have a hard time accepting that it was real.  You'd be surprised how infrequently I get something I truly want." The Elite pg 79
He can be naive.
"What have I done to offend you? Did I not just give you the very thing you asked for?" He was genuinely confused by my response.  I suppose he expected us to adore him and thank our lucky stars for his existence.  The Selection pg 113
He can be utterly frustrating.
He shook his head, irritated, and stood. "Fine." He walked across the room in quick, angry strides. "I'll just go see what Kriss is doing."  The Elite pg 244
But it's how he reacts and pushes on when something bad happens or when he's wrong that makes this boy the best YA crush we know.
~*~*~*~
And if you won't take our word for how amazing Prince Maxon is, here's America's view:
"And I couldn't poke fun at him, not when I had a chance to say what I'd really started to think now that he was my friend. I couldn't joke about the person who'd saved me from facing absolute heartbreak at home, who fed my family boxes of sweets, who ran to me worried that I was hurt if I asked for him… Maxon Schreave is the epitome of all things good.  He is going to be a phenomenal king.  He lets girls who are supposed to be wearing dresses wear jeans and doesn't get mad when someone who doesn't know him clearly mislabels him. Whoever he marries will be a lucky girl.  And whatever happens to me, I will be honored to be his subject."
~*~*~*~
Vote here!
You can follow any responses to this entry through the RSS 2.0 feed. Both comments and pings are currently closed.